Restaurant Style Chicken Tikka Masala
Monzeeki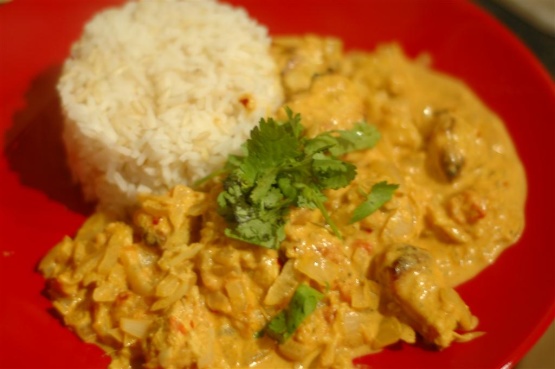 If you're looking for a chicken tikka masala recipe that tastes just like the one you get at your local curry house, this is about as close as you can come without buying a tandoori oven. The trick is to add a little liquid smoke to the marinade (to simulate tandoori cooking) and slightly blacken the chicken on a grill or under the broiler.

This should not have chili powder in it. It made the dish taste like bbq sauce. Peanut oil should be used in place of vegetable oil. If you cannot use peanut oil than you should use real butter.
Mix marinade ingredients together. Pour over chicken and stir to coat. Cover and refrigerate for 1 to 2 hours.
Put the chicken pieces on a metal skewer and light your broiler (you may also grill them on your barbecue) and cook until the juices run clear and the meat is blackened in places, turning occasionally. Remove from the skewers and set aside.
Heat the oil over medium heat and sauté the onions and jalapeno until soft. Add the ginger and garlic and cook for 30 seconds, stirring constantly.
Add the tomatoes, tomato paste and spices and cook on medium low heat. Add water if necessary to prevent sticking. When the ingredients are well blended and the sauce is fragrant, add the chicken and the cream. Heat through but do not boil.
Garnish with chopped fresh cilantro and serve over basmati rice.