Renal-Friendly Homemade Sausage Patties
Leslie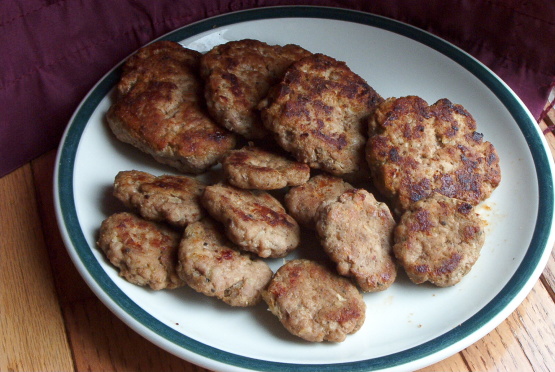 Are you on a Renal diet? Maybe your doctor has told you to restrict sodium for some other reason? Do you miss eating breakfast sausage? I know I did until I found this recipe in the "Kidney-Friendly Comfort Foods" cookbook. Hope everyone enjoys them as much as I do!

I made these for my eldest DS, he doesn't care for sausage and opts for a bowl of cereal instead of something with sausage. Of course being a mom I needed to have something that he would like. I made these for a recipe for OAMC-I haven't made this recipe yet but it will be for recipe#120519. I tried one and he tried one. He told me it doesn't tastes like sausage it tastes like 'meat'-yeah mom I'll eat it! (he does love meat!) I agreed with the 'meat' taste, it was the sugar taste that threw me off, I'm not accustomed to that in sausage. The little patties are sitting in the freezer waiting to be used for my next OAMC.
Cook onion in the olive oil over moderately low heat.
Stir occasionally until onions begin to soften and brown.
8-10 minutes.
Cool for 10 minutes.
In a small bowl, combine the sage, pepper (red and black), sugar, cloves and thyme.
Place the egg yolk, pork, and reserved onion in a large bowl and then add the mixed spices.
Mix well.
Form into 16 patties, 2 ounces each.
Pan fry the patties in a large skillet over medium high heat for 5 minutes on each side or until the internal temperature reaches 160 degrees.