nitko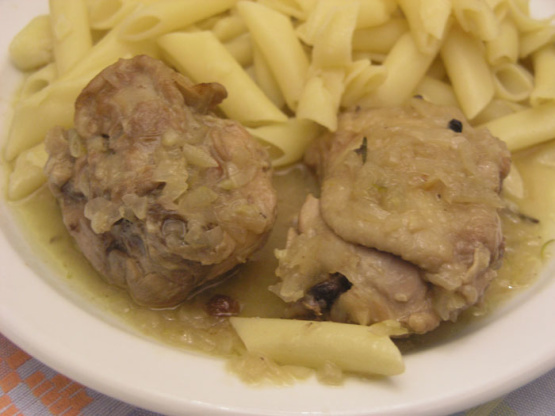 This recipe is from Croatian culinary TV show called "Food from forgotten times". The recipe is from island Hvar. It may sound rough, but when you cooked it you will taste delicate chicken meal. Since the recipe is before America was discovered, there are no tomatoes or potatoes, so as side dish serve rice or flour noodles or just pasta (penne, rigatoni or spaghetti) or nothing but bread.

This is a nice, savory blend of flavors, great on a cold evening, and easy to prepare. Thank you Nitko!
Cut chicken into pieces and salt it.
Mince onion.
Add olive oil into a pot and heat. Add onion and sauté it until translucent.
Add chicken pieces, sauté it until white and add roughly grounded peppercorn, capers, cloves, roughly minced garlic, cinnamon, rosemary, bay leaf and wine.
Cook 30 minutes and add raisins. Salt if necessary.
Cook for more 15 to 20 minutes. That is it.