Renaissance Stuffed Veal Shoulder from Dubrovnik
nitko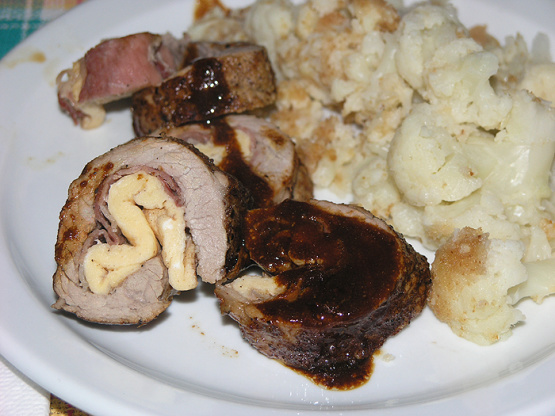 I was recently reading some memoirs by Dubrovnik renaissance writer Nikola Naljeskovic where he mentioned some recipes from his time (16th century). I decided to submit them so everyone can enjoy these excellent meals.
1000

g veal (shoulder)

2

eggs (scrambled)

100

g prosciutto (Dalmatian)

14.79

ml nutmeg (grounded)

4.92

ml cinnamon (grounded)

10

g salt

5

g pepper (black, grounded)

14.79

ml lard (oil can do)
Bone the meat and beat it into one regular shaped cutlet or large schnitzel.
Season the cutlet with salt and pepper. Place on it strips of prosciutto and scrambled eggs flavored with grounded nutmeg.
Spread the scrambled eggs evenly over the prosciutto and meat. Make a roll, tying up it with cooking string.
Season again from outside with salt pepper and cinnamon. Fry them on hot lard on all sides and than roast it on greased baking tin in an oven for 20-30 minutes, turning it on all sides so it gets golden brown crust (use the same pot for this, it is easier).
Let it cool a little, carefully cut it into slices and serve with boiled chard or cauliflower.