Rei-Shabu - Cold Pork Shabu Shabu
Bergy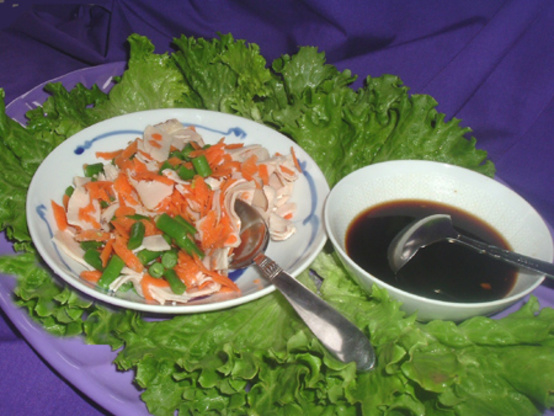 Another addition selected for the 2005 'Zaar World Tour. This is a remarkably easy one pot meal that takes less than 30 minute to prepare. Though the recipe calls for a combination of carrots and green beans, other vegetables such as mushrooms, asparagus, peppers or scallions would also work well.

Top Review by Bergy
I made this this morning for our afternoon appetizer - Easy to make and delicious to eat. Lovely eye appeal. As suggested I left whole lettuce leaves, rolled in the pork & veggies, sauced it and Mmm. When I went to make it I discovered that I didn't have any mirin so I substituted tamari in the ginger dipping sauce - lovely. Thanks toni for a delicious, easy healthi appetizer. I forgot That I got my butcher to shave a porkchop for the meat, no fat and I shredded the carrots instead of doing them julliene
Before preparing entree, prepare one or both of the dipping sauces. This gives them a few minutes for the seasonings to meld.
Wash lettuce leaves and tear into bite-sized pieces. (Though more Korean than Japanese, I like to leave my lettuce leaves whole and use them as wraps. A little more messy, but a lot more fun.)
Cut carrot into julliene strips and trim green beans to 1 1/2 to 2 inch pieces. Boil water in a pan. Add green beans and cook for 2 or 3 minutes. Remove beans and plunge into cold water to stop cooking. Drain. Repeat same process with carrots, cooking for one minute.
Slice/shave the pork into very thin pieces. This is sometimes easier if the pork is placed in the freezer for a half hour beforehand. Cook thinly sliced pork in the water for a couple of minutes. Drain the water and cool the pork in a strainer.
Place lettuce, carrot, breen beans in a plate. Put boiled pork on the top.
Serve with dipping sauce.