Refrigerator Pickled Zucchini Ribbons
gailanng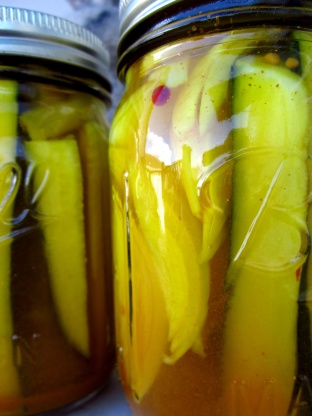 Taken from the June/96 issue of Cooking Light magazine

I came across this in search of a new and exciting way to eat zucchini. Boy am I glad that I came across this recipe! Changes I made: I used around 10 sprigs of dill, and crushed/peeled the garlic. I also threw the zucchini and onions in the brine 1 minute before I turned off the stove. Once the brine and veggies were cooled to room temperature, I threw them into a ziplock bag. Which helps me save space in the fridge while keeping all the veggies submerged in this tasty pickling solution/brine. I let them sit for 48hours before indulging. (Let those flavors meld!!) Thanks for a unique recipe! Will be making this again today or tom for a picnic. Also, I took a few pictures which I will post in the next week.
Combine first nine ingredients in a medium saucepan; bring to a boil.
Reduce heat and simmer uncovered 15 minutes.
Combine zucchini and onion in a large bowl and pour hot vinegar mixture over vegetables.
Cover and let stand at room temperature for 3 hours.
Refrigerate for a minimum of 8 hours before using.
Store covered in refrigerator for up to 4 weeks.