Refrigerator Kosher Dill Pickles
flower7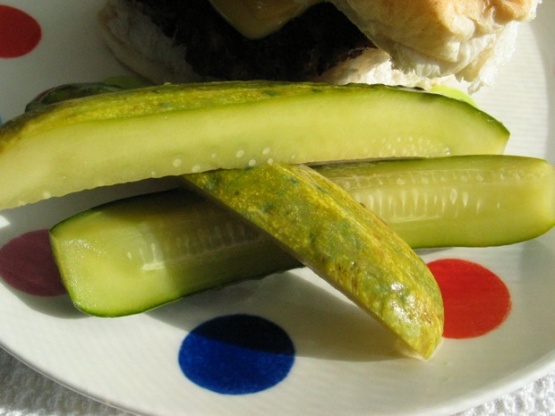 I've used this dill pickle recipe as long as I've grown cucumbers. It's easy to make and the pickles taste amazing. I make these in small batches every couple of days as the cucumbers in my garden get big enough to use. They keep for around 6 month in the refrigerator if you don't eat them first.

These are really great! They have quite a nice "kick" from the red pepper flakes. I made mine in spears but would like to try as chips next time as I think they'd be great on a burger! Thanks so much for posting!
Add salt and spices to each jar. Add cucumbers sliced, whole (ends trimmed) or spears, packing them in tightly. Fill jar to within 1/2 inch of the top. Add pickling liquid to cover the cucumbers. Put a lid and ring on the jar and shake for a few seconds to distribute the salt and spices evenly. Refrigerate for 7 days, shaking the jar for a few seconds every day. These will last approximately 6 months in the refrigerator.