Rita1652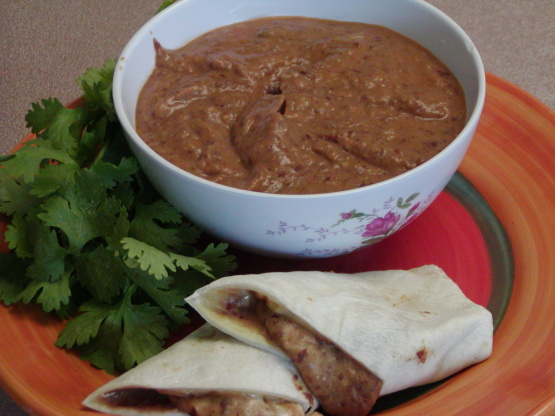 Great for using in burritos, or on the side covered with a little melted Monterey Jack cheese.

I like my refried beans to be pretty basic, as these are. I prefer to add seasonings that go with whatever I will be using them in. Now, I did have some technical problems, including letting the pot go dry, but managed to avoid total disaster. They probably dried out a touch between the cooking of the beans and the final steps, so I found that using the immersion blender to mash it all up greatly reduced my frustration level. I did add a bay leaf and some peppercorns to the beans as they were cooking. I apparently have no adobo seasoning, so used sazon and a southwestern no-salt seasoning mix to keep the sodium low. I used some of this to make quesadillas with beef. As the beef was only mildly seasoned, I added chopped jalapenos to the refried beans, and had a nicely spicy snack. I cooked 1/2 lb of beans and the end result fit nicely into a quart container.
Sort beans and place in a pot with 6 cups water.
Soak overnight, or bring to a boil, cook for 3 minutes, then cover and remove from heat, allowing to sit undisturbed for 1 hour.
Drain and rinse beans, and cover with 6 cups water.
Bring to a boil, then cover, and simmer for 1- 1 1/2 hours or until tender and creamy.
Drain beans and retain cooking liquid.
Cook onion and 6 cloves minced garlic in 4 tbsp lard in a deep skillet until tender.
Add drained beans and mash until smooth and creamy, adding some of the cooking liquid if necessary (to adjust consistency to your liking).
Season to taste with adobo seasoning or seasoned salt.