Parsley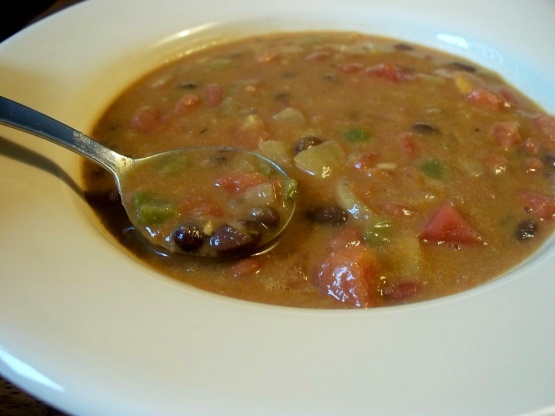 This is a very good Weight Watcher recipe for those cold days. It is only 2 point per cup. Servings are a guess.

Absolutely wonderful flavor and texture! It's healthy and satisfying. I made this exactly as written and wouldn't change a thing. I love how refried beans not only add flavor, but act to thicken the soup. An added bonus is that this soup is very quick and easy.... and inexpensive. Thanx for sharing!
Heat oil in 4 1/2 quart soup pot over medium heat. Add onions, bell pepper. Raise heat to high and cook for 2 or 3 minutes.
Add garlic, broth and tomatoes. Stir.
Stir in kidney beans, black beans and refried beans, then cumin and taco seasoning.Stir well.
Cover and let come to boil, reduce heat to low add pepper to taste.
Cook stirring occasionally for 5 to 7 minutes or until ready to serve.