Parsley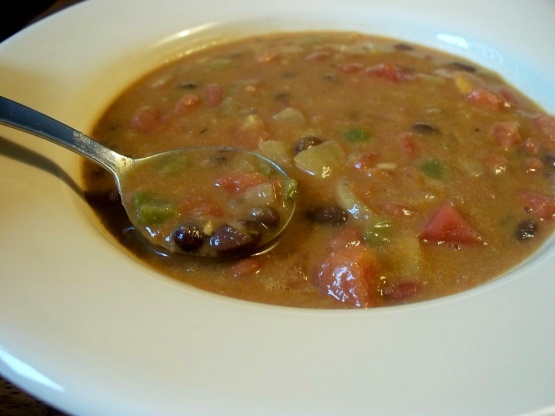 This is a very good Weight Watcher recipe for those cold days. It is only 2 point per cup. Servings are a guess.
Great recipe and it has a reasonable number of ingredients (which I appreciate a lot). I only use half of the tomatoes when I make it. Despite the re-fried beans, I also I puree about a third of the soup and add it back so the soup is even thicker. Ingredient wise, you don't need to change anything but the recipe lends itself to experimenting with your favorite ingredients.
Heat oil in 4 1/2 quart soup pot over medium heat. Add onions, bell pepper. Raise heat to high and cook for 2 or 3 minutes.
Add garlic, broth and tomatoes. Stir.
Stir in kidney beans, black beans and refried beans, then cumin and taco seasoning.Stir well.
Cover and let come to boil, reduce heat to low add pepper to taste.
Cook stirring occasionally for 5 to 7 minutes or until ready to serve.