Refreshing Sweet Potato Salad
rpgaymer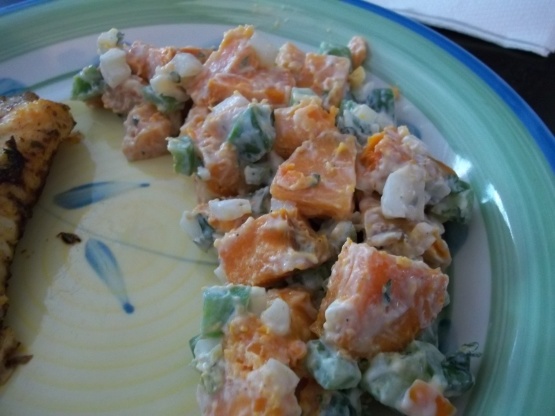 This is a unique potato salad you can serve at a BBQ, or with Asian or Caribbean food. It looks beautiful, and has never failed to surprise anyone with its blend of flavors.

A nice variation of potato salad. I peeled, diced and simmered the sweet potato until it was done, as did not want to use the oven just for this. I had no yogurt, so in the morning I took my kefir grains and dropped them into some heavy cream. By the time I got home, I had a lovely mascarpone-thick cream with a slight tang. I did use rather more red onion, as there were no hot peppers of any kind, and did add some red pepper flakes. The fresh pepper would have been a nice addition. This was served with hamburgers, and I have to say, I think I preferred it warm - it was not as appealing to me when I had it chilled this morning. That or at room temperature. Just a personal preference.
Preheat the oven to 400°F.
Wash and pierce the potatoes all over, and bake in the oven for 40 minutes, or until tender.
Mix the cilantro, lime juice, yogurt, honey/agave nectar, salt, and pepper in a small bowl. Chill.
When potatoes are done and cool enough to handle, peel them and cut into cubes.
In a large bowl, combine potatoes with bell pepper, celery, onion, and serrano pepper, then drizzle the chilled dressing on top. Mix well, chill, and then serve.