Refreshing Lemon Asparagus
Bellinda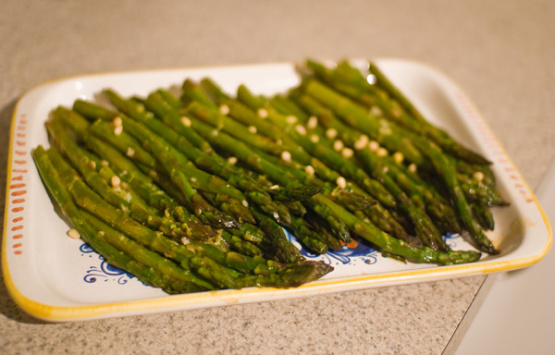 Fresh asparagus seasoned with lemon, garlic and garnished with pine nuts. Dijon is the historical capital of the province of Burgundy know for the mustard and wine.

Lemony and springy! I whisked together the sauce, placed the asparagus in a grill pan, poured sauce over it and roasted the vegetables for 7-8 minutes at 425 degrees! Fresh parsley replaced thyme. Easy and fast! Reviewed for Veg Tag/May.
In a jar, combine olive oil, lemon juice, zest, dijon mustard, thyme, garlic, salt, and pepper. Store, covered, in the refrigerator.
Blanch the asparagus in lightly salted boiling water for about 3-5 minutes or until crisp-tender; do not overcook. Remove from heat and refresh under cold water; drain well.
Toss asparagus with enough lemon vinaigrette to lightly coat. Arrange asparagus on serving platter .