Refreshing Fresh Fruit Salad
Junebug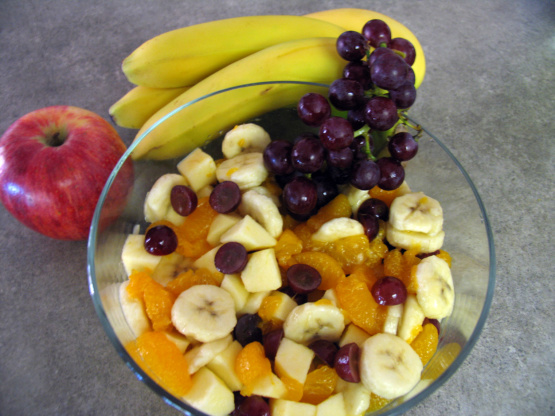 This is so simple; it's my favorite fruit salad combination. My grandmother whips this up every holiday and serves it with fresh whipped cream; I like it topped with a sprinkling of granola. So healthy! This is best served about 2 hours after refrigerating. It's good, though, for 2-3 days in the refrigerator, but the banana will turn a little soft. (Cooking time is refrigeration, but you can eat it as soon as you prepare it too)

Simple, healthy, nutritious and the orange juice really did prevent the other fruit from browning.
Peel the orange, taking the white pith with it, like you would an apple.
Slice into the orange along its sections and place in medium bowl.
After slicing the orange, you should be left with a slim middle part of the orange; squeeze the juice from this section into the bowl.
Peel and dice the apple into small pieces; immediately place in bowl and coat with orange pieces and orange juice.
Peel and dice banana; immediately place in bowl and stir to coat (the orange juice will prevent these 2 fruits from turning brown).
Slice grapes in half and add to mixture.
Sprinkle with sugar and stir.
(**Note,I only add the sugar or Splenda if my orange is a little too tart. If it's a sweet orange, you don't need any sugar).
**I add blueberries to this if they're in season.