Refreshing Apple Tapioca Pudding
Annacia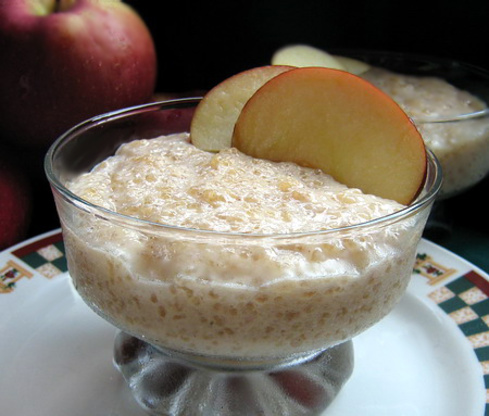 This recipe comes from a magazine from Quebec. It's healthy. In the cooking time, I included the 2 hours in the fridge. I tried it last week and liked it a lot. I used homemade applesauce (unsweetened). I used more cinnamon and omitted the nutmeg. I guess splenda would be great instead of brown sugar to make it healthier. And I used 1% fat milk.

An absolute 5 star dessert! I love tapioca and this is a great way to make it healthier! I haven't been having many desserts since starting weight watchers but this is going to become a regular! I used Splenda brown sugar blend and loved the cinnamon and nutmeg so added more than a pinch. I also served it warm and loved it that way. Thanks Boomie!
Put the 6 first ingredients in a casserole.
Cook at medium heat, stirring constantly, about 15 minutes or until it thickens.
Let cool to room temperature.
Add the applesauce and whisk.
Put in indivudual dessert dishes and put in the fridge at least 2 hours.
Serve cold, with a slice of apple as a garnish.
It's important to stir constantly if you don't want your tapioca to stick together.