Reese's Peanut Butter and Milk Chocolate Chip Blondies
Prep 10 mins
Cook 30 mins
I haven't tried this yet, but i'm sure they are good.
Directions
Heat oven to 350°F Grease 15-1/2x10-1/2x1-inch jelly-roll pan.
Stir together brown sugar, butter and granulated sugar in large bowl; beat in eggs and vanilla.
Add flour and salt, beating just until blended.
Stir in 1-1/2 cups chips; spread batter in prepared pan.
Bake 25 to 30 minutes or until wooden pick inserted in center comes out clean and surface is lightly browned.
Cool completely; cut into bars.
Place remaining 1/4 cup chips and shortening in small microwave-safe bowl.
Microwave at HIGH (100%) 30 seconds; stir.
If necessary, microwave at HIGH an additional 15 seconds at a time, stirring after each heating, until chips are melted and mixture is smooth when stirred.
Drizzle over bars.
About 6 dozen bars.
Most Helpful
These are delicious. I originally got the recipe from Hershey's and it calls for 1 cup of milk chocolate chips and 1 cup of peanutbutter chips. I've made it many times that way but you have partial bags of chips left over. You wouldn't have that problem with this recipe so I plan to switch to it. I use all chocolate chips for the glaze because that's how I like it. After drizzling the glaze, I sprinkle finely chopped pecans over it and they'll stick to the still wet drizzle. They look very pretty that way! I cut them in squares and then cut each square diagonally to make little triangles. That adds an interesting shape to put on your cookie trays and this recipe makes enough to use for the holiday cookie trays.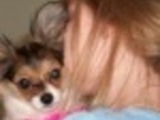 This is an excellent recipe if you need a lot of cookies and don't have a lot of time or don't want to babysit pans of individual cookies. I use a 9x13 cake pan, so they come out a little thicker. Also, you can obviously use various flavors of chips instead of the peanut butter/milk chocolate. I don't bother with the shortening and drizzling. I usually make these because I need quick and easy, but very yummy. Don't overbake - they'll come out somewhat soft and yummo if you don't overbake them.
These blondies came out very tasty. Quick and easy. Thanks for posting.