CoffeeB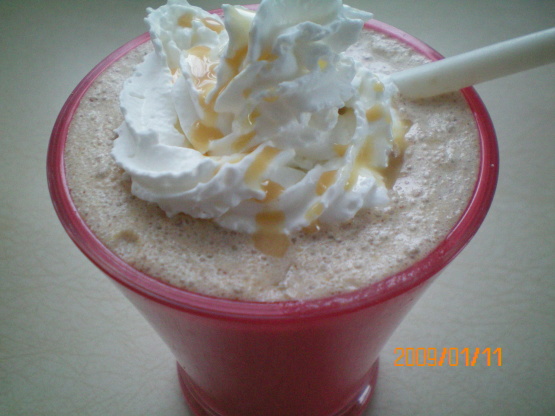 Adjust the amount of ice cream to suit how thick you like.

O.K...this is fabulous tasting Sue. My only complaint is, it wasn't enough!!! I did increase the amount of ice cream by about 1/2 cup because I used SF p.b. syrup by Torani and a touch of SF chocolate syrup. It still was a bit runny, but I didn't want to add more ice cream as it would defeat the purpose of staying low-fat. I didn't use your brand of ice cream but instead used Edy's no-sugar added Fudge Tracks. A small dollop of organic p.b. and about 1/2 handful of dry roasted peanuts. This is so so good!!! Thanks Sue~ Made for Holiday Tag.
236.59

ml cold Hood Calorie Countdown fat free dairy beverage or 236.59 ml skim milk

59.14

ml natural no-sugar-added peanut butter

236.59

ml no-sugar-added chocolate ice cream or 236.59 ml no-sugar-added vanilla ice cream

59.14

ml chopped sugar-free peanut butter cup miniatures or 59.14 ml dry roasted peanuts
Blend milk and peanut butter until mixed and smooth.
Add ice cream and blend, then stir in Reese's cups or peanuts.