Jessa M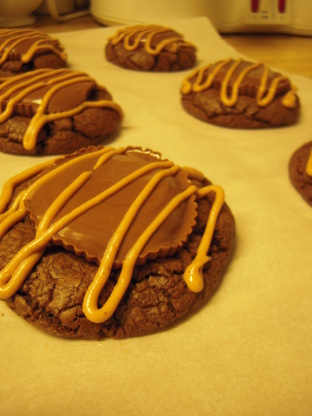 The most decadent candy bar-like cookie you will ever come across. They taste the best when fresh out of the oven or warmed in the microwave just so the Reeses cup on top is slightly gooey. A definite child OR adult pleaser!

1

cup semi-sweet chocolate chips

2

squares unsweetened baking chocolate (1 oz. each)

1

cup sugar
1⁄2 cup Butter Flavor Crisco (Stick form or All-vegetable shortening form)

2

eggs

1

teaspoon salt

1

teaspoon vanilla extract
1 1⁄2 cups plus 2 tbsp. all-purpose flour
1⁄2 teaspoon baking soda
Reese's Peanut Butter cups (Not miniature. You'll need about 19-25 cups)

1

cup peanut butter chips
Preheat oven to 350 degrees F. Place parchment paper on the cookie sheets you plan on using.
Combine chocolate chips and chocolate squares in a microwave-safe bowl. Microwave until melted (you will need to stop the microwave and stir the chips every two minutes to prevent the chocolate from burning). Cool slightly.
Combine sugar and 1/2 cup shortening in a large bowl. Beat at medium speed until blended and crumbly. Beat in the eggs, one at a time, then add salt and vanilla. Reduce the speed of the mixer. Add chocolate slowly. Mix well. Stir in the flour and baking soda with a spoon until well blended. Shape dough into 1 1/4 inch balls and place a couple of inches apart on an ungreased parchment covered baking sheet.
Bake at 350 degrees F for 8-10 minutes or until set. Don't overbake! Press the peanut butter cup into the center of each cookie immediately after removing from oven. Cool for a few minutes on the baking sheet and then transfer the cookies to another surface.
Place the peanut butter chips in a microwave-safe dish. Microwave until smooth (you will need to stir after every minute needed in the microwave to prevent burning). Scrape the melted peanut butter chips into a frosting piping bag with a round, small tip. Squeeze the frosting in a drizzled zig-zag pattern. Enjoy!