Reese's Cup Chocolate Cake
newmama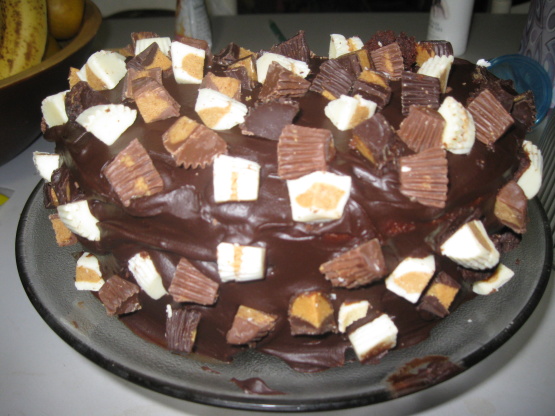 If you like chocolate, this cake is to die for!!!

I made this for a friend's birthday today and though I couldn't eat it, everyone said it was amazing. I used a mixed bag of mini reese's cups (white, dark and milk chocolate) and decorated the whole outside with them as well as adding 2 cups to the cake mix. The ganache/frosting was very thin at first so I put it in the fridge to firm up a bit and put the cakes in the freezer to firm up so they would be easy to frost- it worked great the frosting went on perfectly smooth and it was the exact right amount to frost a 2 layer cake.
Mix together first four ingredients.
Then stir in the coppped Reese's cups.
Pour into 2 greased 9" cake pans and bake for 30 minutes at 350 degrees.
Cool completely.
Frosting:.
Heat cream just to boiling and pour over the 8 oz. dark chocolate and whisk until melted.
Stir in 1/2 cup peanut butter and whisk until smooth and pour on cake. This frosting will be fairly loose but it soaks into the cake a little.
I also top it with a few more chopped up Reese's cups.