Stacky5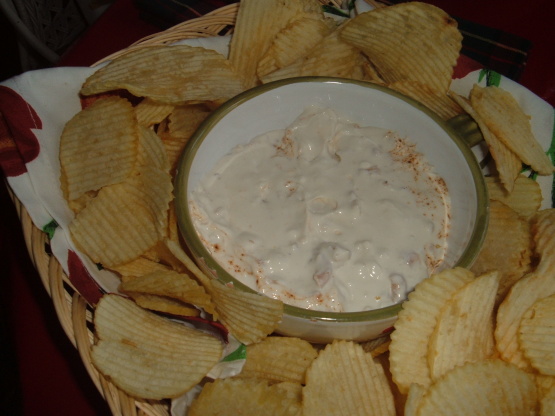 This is an ABSOLUTE MUST in our family...We can't have Christmas or Thanksgiving without this! The taste is truly awesome, and at every family gathering you would find countless brothers-in-law and their offspring "guarding the chip dip table" and in most cases "secretly hording" it for themselves! LOL! My sister, Shelly, has become "The Official Maker of The Dip" in our family, ever since Mom died...You can trust Shelly!!! Try this, you will not be sorry --- except if you don't make enough!

Top Review by Aratay
Yup, it's good. It's real good. And easy. I've made this quite often since finding the recipe and it doesn't last long at our house (and I always make double the recipe). It's great as is, but I sometimes add some sour cream just to make it a little less thick. And, if you let it sit in the fridge overnight, it's even better the next day. But, getting my husband to leave it alone that long is the biggest challenge when making this.
Peel and halve garlic clove, and rub on interior wall of serving bowl. (This seems like an unimportant step -- but my Mom used to swear that this one step made all the difference -- We don't question Jolean. You shouldn't either -- ). Mince the rest of the garlic clove to add to the other ingredients.
Leave cream cheese in bowl until it has reached room temperature. (Don't nuke it -- let it rest and thaw on it's own --) Then cream with a fork until smooth.
Gradually add remaining ingredients (except minced clams), blending well. (Use a hand mixer to get the lumps out, if any.).
Fold in minced clams last. Blend well --.
Chill for 1 hour, sprinkle paprika on top and serve with rippled potato chips.
YUM!