Reduced-Fat Impossibly Easy Vegetable Pie
Vraklis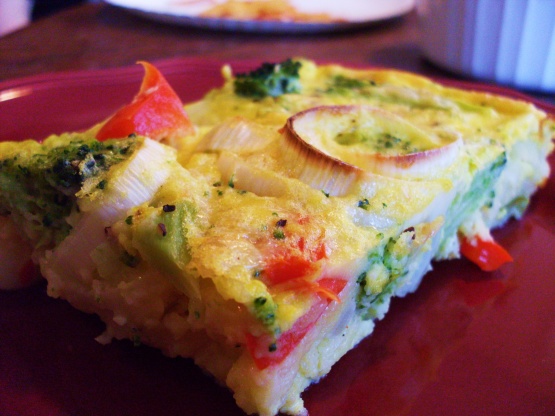 I took Bisquick's Impossibly Easy Vegetable Pie and bulked it up with extra veggies and lowered the fat by substituting fat-free milk and cheese and self-rising flour for the Bisquick. It is a completely delicious and low-cal vegetarian dish that would work for a savory breakfast, a brunch, lunch and I've even served it for dinner. You can substitute cauliflower for the broccoli or try half of each. I just love the broccoli too much to try anything else!

This was pretty good and easy and quick to put together. My boyfriend and I could have easily ate the whole thing for dinner as it was pretty lite. I cooked my broccoli in the microwave in water for 3 minutes and wished I only cooked it for maybe 1 minute or maybe not cooked it before hand at all as in the pie it was mush. I used soymilk with no problems and added a bit of feta cheese, red pepper flakes, and basil to the top. I'm happy the ingredients are easy and I didn't have to go buy bisquick for this recipe. Thanks for posting!
Heat oven to 400ºF. Spray a 9-inch pie plate with cooking spray.
Microwave broccoli in a covered dish for 2-3 minutes, or until almost tender. Stir together cooked broccoli, onion, bell pepper and cheese in a medium bowl and transfer mixture to pie plate in an even layer.
Stir remaining ingredients until blended. Pour over vegetable mixture in pie plate.
Bake 35 to 45 minutes or until golden brown and knife inserted in center comes out clean. Cool 5 minutes.