Reduced-Fat Cranberry Oatmeal Cookies
KateL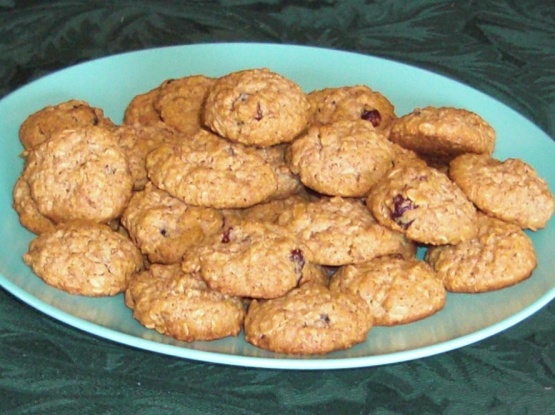 This is a version of Grape-Nuts Oatmeal Cranberry Cookies that I made and really enjoyed. I'm putting it here for safe keeping, and for anyone who might be looking for a lower-fat/less sugar version of these YUMMY cookies! Also, this version makes a smaller batch, which is good for my smaller family.

Top Review by KateL
This is a good cookie for incorporating Grape Nuts with lower fat, and the sugar could probably be replaced with Splenda products to make it even more diabetic friendly. The Grape Nuts taste was quite pronounced, so I would include that in the title; however, if you want the fiber from Grape Nuts but can't handle Grape Nuts on their own, this is a great way to work them in. I was very pleased that Smart Balance worked well in this recipe, I didn't miss regular butter at all. Thanks for posting, smellyvegetarian! Made for January 2009 Veg*n Swap.
Preheat oven to 375.
In a large bowl beat Smart Balance, sugars, egg white, and vanilla until fluffy.
Make a well in the center of the bowl and add flours, baking soda, and salt. Beat to mix well.
Add cereal, oatmeal, and cranberries, stirring to blend.
Drop by tablespoons onto an ungreased cookie sheet. The dough may seem to be too "loose", but they will bind well when they bake.
Bake 9 minutes, or until tops are lightly browned.