Kathy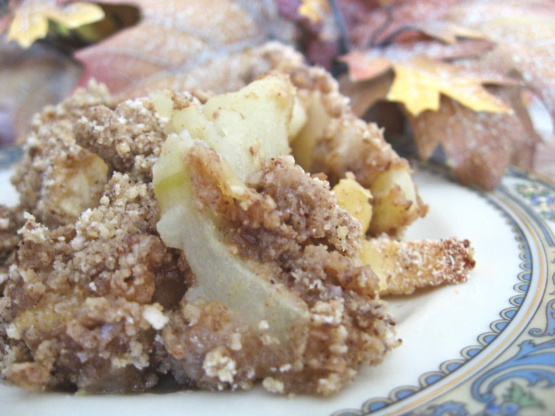 I modified my mom's apple crisp recipe to lower the carbs.

Top Review by Kathy
A 4-star for me because I'm not really a fan of Splenda's aftertaste. If you like Splenda, this is definitely a 5-star recipe. This was my first time using a low-carb baking mix, and I was very happy with the results. Atkins no longer makes a baking mix, but fortunately Bob's Red Mill has a low-carb baking mix in their product line. I forgot to butter the baking dish, but had no trouble with the apples sticking to the dish. A teaspoon a salt was a tad too much for me, and I will cut that back to 1/2 tsp next time. Overall, a very nice recipe. Thanks!
Butter baking dish.
Place 4 cups sliced apples in buttered dish.
Mix remaining ingredients; sprinkle mixture over apples.
Bake at 350, 40 minutes.