lazyme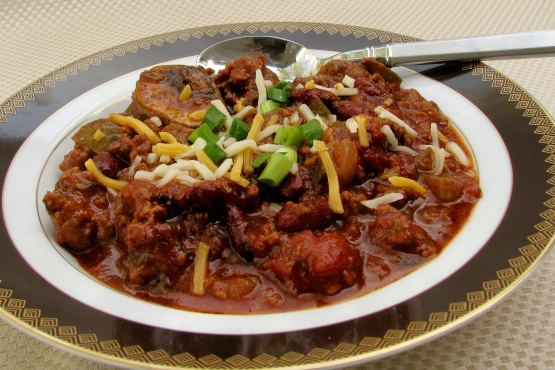 Found this while looking for food ideas to cheer on the the Washington Redskins!! This is a very good chili - didn't use the hot sauce to make it more kid friendly and it was perfect!

I can't believe I never rated this! My husband is a Redskins fan so I had to try making it just because of the name. I ended up making it several times this past winter. Perfect amount of heat for a cold day. The italian sausage makes it DELICIOUS! Thanks for sharing.
The Night Before:.
Start out by removing the skin from the Italian sausage.
In a large skillet, begin to brown the sausage and ground beef.
Drain the meats once browned. Remove from skillet and place in a large pot.
In the skillet, brown the onion, pepper and mushrooms. Add garlic for the last two minutes.
Transfer the mixture to the large pot.
Add whole tomatoes and bring to a simmer over medium heat. Be sure to break the tomatoes up well.
Stir in chili powder, oregano, parsley, and the hot sauce. Remove from the heat and refrigerate overnight after cooling.
Gameday:.
Light the burner and sit the pot of goodness over the heat.
Add the kidney beans in and bring to a boil. Reduce heat to medium and begin to simmer the chili.
Now add the tomato paste and the dark beer. I use Newcastle, but Guinness, and Becks dark are both great in this recipe as well.
Simmer uncovered until the mixture reduces to desired thickness. If it stays uncovered for an extended period of time and thickens too much just add a little more beer to loosen things back up a bit.
Scoop into bowls and top with a few of the jalapeno slices and a sprinkle or two of cheddar.