lets.eat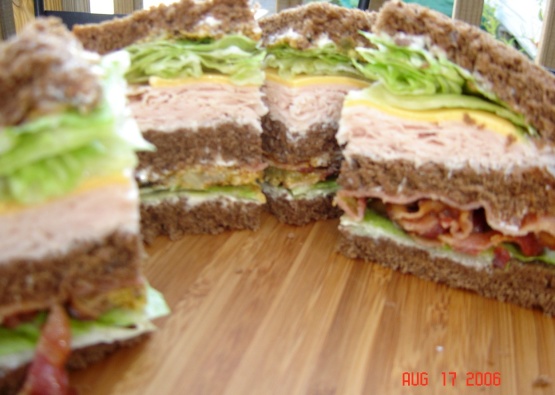 Wiley Poundstone of The Marina Bar & Grill in Montgomery, Alabama is the creator of this. He said in his article in the Montgomery Advertiser that the sandwich sells pretty good. I'm posting it on Zaar for safe keeping. It does sound good.

I am really late in posting a review for this one but I want to advise to rest assured this sandwich is a winner. Have made it a couple of times and my friends and I LOVE it. Don't knock it til you try it.
3

slices Texas toast thick bread or 3 slices bread, of choice

4

fried green tomatoes

1

slice American cheese

2 -3

slices deli turkey

3

slices cooked bacon
Beginning with one piece of bread, add a leaf of lettuce, 3 bacon slices and two of the fried green tomatoes.
Top that with another piece of bread, a slice of cheese, the turkey slices, another leaf of lettuce, 2 more of the tomatoes and another piece of bread.
Cut into 4 triangular sections and serve.