AZPARZYCH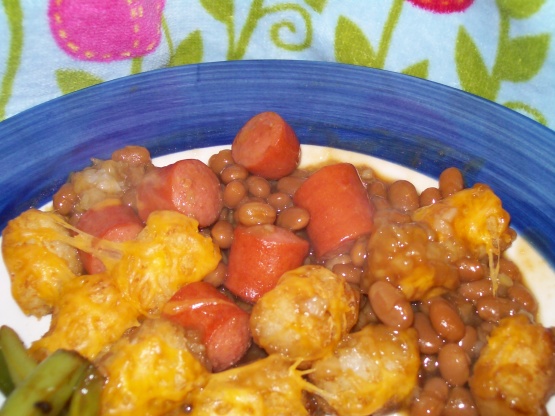 My brother and I cook up this quick and easy recipe every Friday night when my mom is out with her friends/family. It's yummy yummy and has the potential to evolve into much more...but we like it just the way it is. I hope you enjoy!!

Had a hankering for franks n' beans so when I saw this recipe and photos, went right to the grocery store for the fixings. Used 2 cans Bush's bourbon & brown sugar baked beans (with added ketchup and mustard) in 13x9 baking dish, pkg of 7 Hebrew National beef franks, and shredded cheddar-jack. As suggested in some of the reviews, I pre-baked the tater tots for extra crispiness. Turned out yummy! Not exactly healthy, but every now and then you just gotta have some ooey-gooey comfort food. Will make again, it's a keeper and you can do endless variations.
Set your oven to 450.
Dump your can of baked beans (we use Bush's vegetarian) into a casserole dish. (We use a medium sized glass bowlish looking -- thing). Set the dish aside.
Cut up your hotdogs into bite sized pieces and throw those into your casserole dish and mix until dogs are well coated with baked bean sauce.
Cover the bean and dog mixture with tatertots. We usually use a couple handfuls. Use as many as you'd like. Just make sure to cover the mixture completely.
Place the casserole dish in the oven for 1/2 an hour or until tater tots are golden brown. When Redneck Casserole is all cooked up, turn off the oven and sprinkle the top with cheese.
Redneck Casserole is completely done when cheese is melted and you just can't take it anymore -- dig in! (You can mix pretty much anything with this dish. Sour cream, ketchup, mustard, hot sauce, etc.).