Red Wine and Goats Cheese Risotto With Caramelised Baby Onions
Shuzbud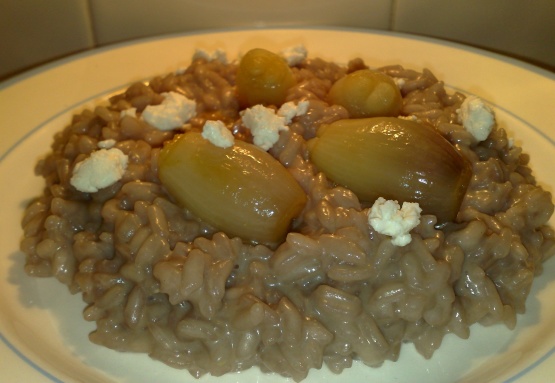 This is delicious and decadent! It never fails to impress...
This was just delicious. The caramelized onions (I ended up using shallots) add a nice contrast to the goat cheese. I used chicken broth rather than vegetable, and white wine rather than red (I might try red but it was awfully good with a dry white). I made one cup of rice rather than two but kept the other items the same (5oz cheese, 1 small onion, etc.) and put some butter in with the sauteing. It made five good-sized side-dish servings. I had to double the amounts of the caramelizing sauce ingredients - I have no idea how that would have handled 1 pound of onions (I used three shallots, each cut in half lengthwise). Really, really good and very easy.
For this recipe, once you have started the baby onions, go straight to the risotto so they cook simultaneously.
For the baby onions, heat the olive oil in a small saucepan and add the onions, sugar and bourbon. Cover and cook over a very low heat, stirring occasionally, for 20-25 minutes. If the onions begin to dry out, add a tablespoon of water. You may need to uncover the pan during the last few minutes for the liquid to evaporate (if it has not evaporated by then, turn up the heat).
Meanwhile, for the risotto, heat the oil in a skillet and add the onion. Cook for a few minutes then add the garlic.
Add the risotto rice and stir well to coat with the oil.
Add the red wine and stir until the wine has soaked in completely.
Add the stock 1/2 a cup at a time, making sure the stock has been completely absorbed before you add more. This will take around 20 minutes. When all the stock is absorbed, taste the rice to make sure it is cooked but still firm. Remove from the heat.
Save about a third of the goats cheese to crumble over the risotto. Stir the rest into the risotto.
Put the risotto onto plates, top with the caramelised onions and crumbled goats cheese. Garnish with sprigs of thyme and serve!