Red, White & Blue Jello Creme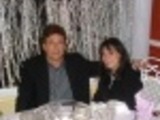 I have been making this dessert for years, and it never fails to draw praise. While some people look down their noses at Jello desserts as being too kitsch, I believe taste comes first. This is light, refreshing, and it makes a beautiful, patriotic presentation. Preparation time does not include chilling time, which is at least 3 hours, so plan accordingly. (I usually prepare this the evening before.)
Directions
In a large bowl, dissolve blue jello in 1 cup boiling water; stir in 1 cup cold water. Add blueberries. Pour into serving bowl (such as trifle bowl or 3-quart bowl). Refrigerate until firm (about 1 hour.).
Next, in a saucepan, sprinkle unflavored gelatin over 1/2 cup cold water. Let stand for 1 m inute. Add the heavy cream and sugar and cook, stirring, over low heat until gelatin and sugar are completely dissolved. Cool to room temperature. When cool, whisk in sour cream and vanilla. Spoon over blue layer and refrigerate until firm.
In a large bowl, dissolve red raspberry jello in 1 cup boiling water; stir in 1 cup cold water. Add raspberries. Spoon over cream layer. Chill until set.
Garnish with whipped cream and additional berries.
Most Helpful
Patriotic, pretty, and delicious! I increased the berries to completely cover the surface of the layer, so it tasted like eating a whole lot of raspberries and blueberries with creamy topping. Before adding the last layer, next time I would chill that mixture in the refrigerator 30 minutes before adding to the top of the cream layer. I would allow at least 4 hours for the last layer to chill before serving. Made for Please Review My Recipe tag.

Very Patriotic!!!<br/>The whole family enjoyed it, perfect time of the year to have it! Tomorrow is Independence Day! Thanks for the creative recipe! Made for PRMR!
Made this for a picnic and everyone enjoyed it. I made the recipe exactly as written.