Red, White and Blueberry Crisp (Ww 2 Points)
teresas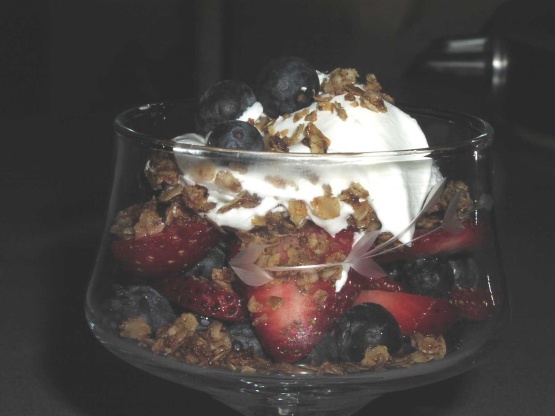 From Weight Watchers' website.

I am rating this a 4.5 only!! because I did the changes that justcallmetoni suggested. I did us 1/2 sugar and 1/2 Splenda, along with adding some cinnamon. ok lots of cinnamon in the oats mixture. I cooked it for only 5 minutes, wanted to be on the safe side. With these changes this dessert was totally awesome!! I would be happy to give this a 5+ rating if it was posted as toni suggested. :) Thanks Redsie for posting this recipe.
Preheat oven to 375°F.
In a small bowl, toss blueberries with 1 tablespoon of granulated sugar; set aside. In another small bowl, toss strawberries with remaining tablespoon of granulated sugar; set aside.
In a third small bowl, stir together oats, brown sugar and butter. Spread mixture in a single layer on a sheet pan; bake, stirring occasionally, until lightly browned, about 15 minutes.
Spread blueberries and strawberries in an 8 x 8-inch glass dish, alternating to create stripes. (Or prepare in individual serving bowls like we did here.) Sprinkle with oat topping, decorate with whipped topping and serve. Yields 8 servings.