Red, White and Blue Yogurt Cake
Redsie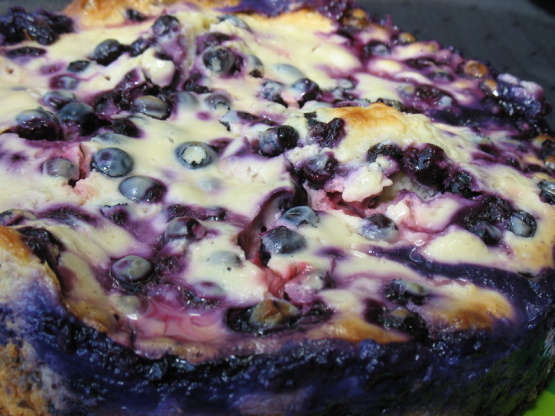 From "Cakes from Scratch in Half the Time". Made this for July 14 - fete des francais (French Birthday).

My family really enjoyed this cake - the yogurt topping was great! It is neat how it is layered: cake, berries and topping. I had a little problem with the cook-time, which could have just been a problem on my end. I baked it for about 45 minutes, and, though the top looked right, the cake layer in the center was still not done. However, the rest was very good!
Arrange the rack in the middle of the oven and preheat it to 400°F Spritz a 10-inch springform pan with Baker's Joy. Place the unbroken eggs in a bowl of hot tap water for about 5 minutes.
Add the butter, cream cheese, 1/2 cup of the sugar, 1 egg, flour and baking powder in a large bowl. Stir with a wooden spoon to mix thoroughly, then pour into the prepared pan. Arrange the fruit on top. Rinse out the bowl, and add the yogurt, cornstarch, remaining 1/2 cup sugar, vanilla and remaining 2 egg yolks. Whisk thoroughly, then spread on top of the cake.
Bake until the crust is light brown around the edges and the middle is still a little jiggly, 30 to 35 minutes. Remove to a rack and cool thoroughly. Once the cake is cool, run a thin-bladed knife around the perimeter, and remove the sides of the pan. Serve at room temperature or chilled.