Rita1652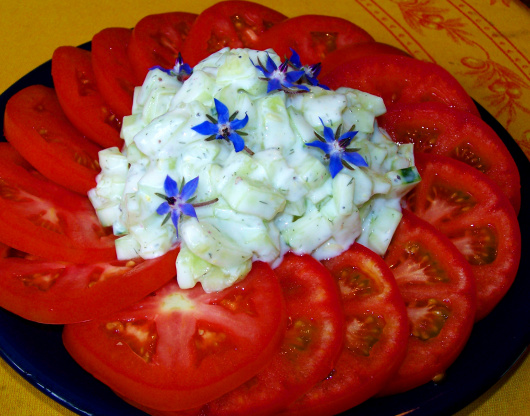 Borage make this a beautiful salad adding the Blue. Dill complements the cucumbers and the borage as they have a slight cucumber flavor.

This is stunning! Having just celebrated Independence Day I wish I had seen this earlier! What a beautiful dish that I will make and serve OFTEN when my garden is blessing my family!
Combine all the ingredients except for the tomatoes and flowers. Chill well.
Slice tomatoes and arrange them, overlapping, around the edge of a chilled serving platter.
Mound the chilled cucumber mixture in the center of the platter, just covering the inner edge of the tomatoes.
Place the borage flowers decoratively on the salad just before serving.