Red, White and Blue Salad
jenne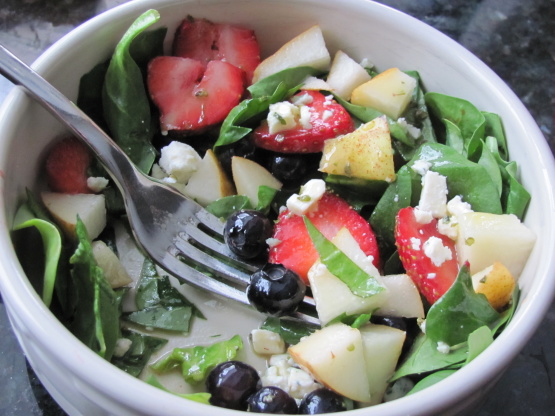 This is a colorful salad to impress your family and friends with your special taste for mixing the right foods to enhance a delicious combination of flavors. This recipe was created for the "Category Craze-E Contest! With the sub-category of Start with Salad at a Dinner Party! *NOTE: Now that the contest is over I have substituted blue berries for the peas which was one of the special must use ingredients, as suggested by Jen.

Top Review by ellie_
Absolutely delicious and perfect for summer -- I made some minor changes by skipping the walnuts and adding blackberries and also the amounts of spinach and fruit (except for the pears) where probably off a tad. Thanks for sharing this keeper salad which we will be having again and again this summer!
Combine in a cruet olive oil, honey, tarragon & cider vinegar and shake well to mix. (Set aside).
Preheat oven to 350 degrees F. In a baking dish cut a piece of baker's parchment paper and line the bottom.
Coarse chop walnuts. Place walnuts on top of the parchment paper in a single layer, spray with Pam cooking spray and toast for 10-15 minutes.
Shake vinegarette well to mix up again.
In a bowl gently mix baby spinach, blueberries, pears, walnuts and strawberries together with vinegarette mixture in cruet.
Divide the salad mixture evenly between 6 plates and crumble blue cheese on to each salad.