Red, White, and Blue Ice Cream Pie
eabeler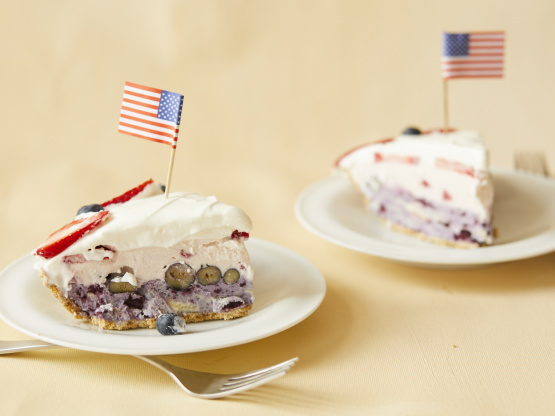 Recipe by Mirj
Even though I don't live in the States anymore all the Americans in my community get together for the 4th of July, and this is what I always bring. It should be made in advance, you need lots of freezing time. Prep time includes freeze time.

Mirj!! I can't believe that this recipe has just sat here! It was delicious! I couldn't find blueberry ice cream to save my life so I turned to trusty Zaar and there it was! :) I used Kim D's Recipe #91781 and it was good. Easy to put together,creamy and delicious! I can see why it's so popular at your get together. Thanks for posting!!
Spread the blueberry and cream ice cream in an even layer on the bottom of the piecrust.
Top with half of the sliced strawberries.
Freeze for one hour.
Top with the strawberry ice cream and smooth to form an even layer.
Top with half of the blueberries.
Freeze for two hours.
Top with the whipped cream and the remaining berries.
Serve immediately, or cover and freeze for up to 48 hours before serving.
Let the pie sit in the refrigerator for 30 minutes before cutting and serving.