Kesewell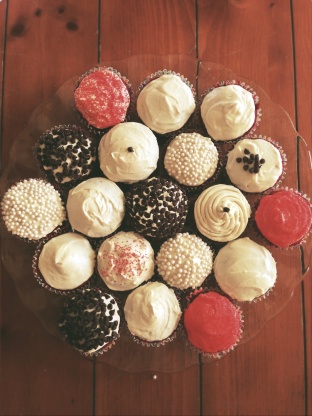 A beautiful cupcake for Christmas -- or Valentine's Day. The cake has become almost traditional for the upcoming season and now here is an individual-sized serving to highlight a dessert tray. The recipe came from a book of cupcake recipes and decorating ideas. I'm sorry to say I know neither the name of the book nor the author but am grateful to have gotten such a great recipe! Note that the recipe for a suggested frosting is included at the end of the recipe, but any white frosting of your choice may be used. Edited to add: The recipe comes from the book "Hey There, Cupcake!" by Clare Crespo. It contains lots of decorating ideas.

Very good cupcakes and the frosting was ok too but I've had better cream cheese frosting before. I thought the step of combining the cocoa powder with the food coloring to be ridiculous. The cocoa didn't dissolve thoroughly and I ended up with specks of cocoa throughout my cupcakes. Next time I will simply add the food coloring to the batter and add the cocoa to the flour and salt.
Preheat the oven to 350 degrees. Grease 12 cupcake cups or line with paper liners.
Cream butter and sugar until fluffy.
Add eggs and blend well.
Make a paste of cocoa and food coloring and add to the butter mixture.
Sift flour and salt togethr into this mixture.
One at a time, add the following ingredients: buttermilk, vanilla, and water.
In a small bowl, combine the vinegar and the baking soda. Fold it into the cake batter. Make sure it's incorporated, but don't beat it.
Pour the batter into the cupcake cups. Bake for 15 to 20 minutes, until the cake springs back when touched.
Remove from oven and let cool for about 10 minutes, then turn out of pan and onto a rack to finish cooling completely.
Cream Cheese Frosting: Blend together the following: 1 (8-ounce) package cream cheese, softened, 1/2 cup unsalted butter, softened, 1-1/2 cups powdered sugar, and 1 teaspoon vanilla extract. Blend until smooth.