elsa l.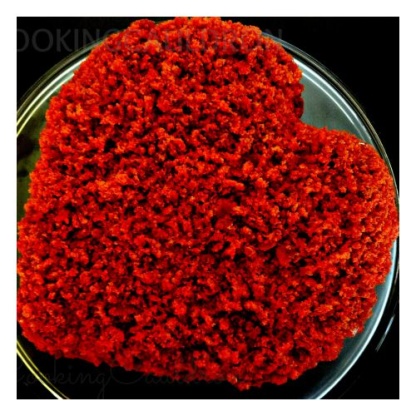 The cake is super moist and dense. The red color of the cake is from the red food coloring.
Preheat oven to 180°C Grease and lightly flour 2 round 9" cake pans.
Sift the flour and salt together a couple of times , set aside. In a bowl beat the butter and sugar until light and fluffy. Add the eggs one at a time. Mix well after each addition.
Add the flour mixture to the bowl alternating with the buttermilk, beginning and ending with flour mixture. Blend in vanilla.
In a small bowl, mix the red food coloring and the cocoa powder until a paste forms. Add this to the sugar and butter batter and combine well.
In another small bowl stir together the baking soda and the vinegar add it to the batter immediately and combine well on medium speed setting until it has a smooth consistency.
Pour the batter evenly into the floured pans, level the top of the batter and bake for 25-30 minutes, or until the tooth pick inserted in the center of the cake comes clean. Turn out on wire racks and cool completely.
In a large mixing bowl, beat the cream cheese, butter and vanilla together until smooth. Gradually add the confectioners sugar and beat until light and fluffy(add little milk if too thick & add sugar if too thin).
If your carving the cake and coating it with crumbs, be sure to put the crumbs on when the icing is fresh.
For a heart shaped cake as shown, first cut the baked cakes in the shape of a heart(for perfect shape, carve out the heart making use of a paper cut out in the shape of a heart and use it as reference. First draw a circle using the 9 inch round pan used for baking the cake on a piece of paper, draw a heart inside the circle).
Place the heart shaped paper on the baked cake and cut out the shape. Crumble the cut off pieces and keep aside.
Apply the frosting evenly on the topside of the cake, place the other cake on top and apply the frosting on top and the sides of the cake.
Now press the crumbled mixture all over the cake(This is not a pretty job you can clean up later).(Place the cake on the serving dish before decorating).
Adjust the quantity of the frosting according to your requirement. I ended up with so much left over frosting.