Chickee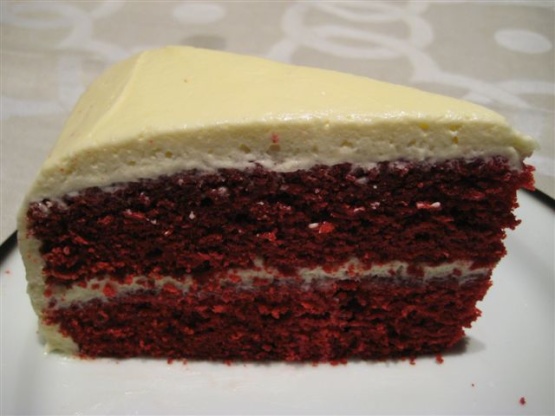 My DH grew up on this cake! Of course, his mom had a recipe from a hotel in New York that presumably someone paid $1k for back in the fifties! Now, I believe that's an urban legend, much like the similar urban legend surrounding the famous super model's cookies of the 80's -- and I can't even remember her name! Yet her cookies were sold in airports and in cookie boutiques across the nation for years (they may still be out there!). The urban legend is all about someone paying an exorbitant price for a recipe so the disgruntled payer shares the recipe with the world at large so that it eats into so-and-so's profits (i.e., by folks making the special recipe themselves and not buying it). I'm not buying the urban legend! So there! This recipe is not about cookies; it's about classic red velvet cake. This recipe is based on the one from the magazine Cook's Country, December/January 2007. I hope you enjoy this! BTW, my DH would really love a copy of the one his mother made -- please let me know if you've posted it or have it! :) NOTE: This recipe must be prepared with natural cocoa powder. Dutch-processed cocoa will not yield the proper color or rise.Once this cake is made, you may cover and refrigerate it until ready to serve, up to 3 days.

Let me say first off, I've had Red Velvet Cake every year since I can remember Christmas! I've always used my Mom's recipe, and this is the first time I used butter instead of oil. This recipe also calls for less sugar, less food coloring, and no butternut flavoring. I stuck to the recipe except I just had to add a bit of butter nut flavoring, and after looking at my batter, I added some more red food coloring. I like a nice "maroon red velvet" color. I also put the cocoa in with the dry ingredients and the food coloring in with the wet ingredients instead of making a paste. This recipe is exceptional, and I'll continue to combine elements from this recipe with my Mom's old recipe. Beautiful cake for Christmas or Valentine's Day!
FOR THE CAKE:.
Place oven rack in the middle position and heat oven to 350°F.
Grease and flour two 9-inch round cake pans.
Whisk flour, baking soda, and salt in medium bowl.
Whisk buttermilk, vinegar, vanilla, and eggs in large measuring cup.
Mix cocoa with food coloring in small bowl until a smooth paste forms.
Beat butter and sugar together on medium-high speed until fluffy, about 2 minutes, scraping down bowl as necessary.
Add one-third of flour mixture and beat on medium-low speed until just incorporated, about 30 seconds.
Add half of buttermilk mixture and beat on low speed until combined, about 30 seconds. Scrape down bowl as necessary and repeat with half of remaining flour mixture, remaining buttermilk mixture, and finally remaining flour mixture.
Scrape down bowl, add cocoa mixture, and beat on medium speed until completly incorporated, about 30 seconds.
Using rubber spatula, give batter final stir.
Scrape into prepared pans and bake until cake tester inserted in center comes out clean, about 25 minutes.
Cool cakes in pans 10 minmutes then turn out onto rack to cool completely, at least 30 minutes.
FROSTING:.
Using electric mixer, beat butter and sugar on medium-high speed until fluffy, about 2 minutes.
Add cream cheese, one piece at a time, and beat until incorporated, about 30 seconds.
Beat in vanilla and salt.
Refrigerate until ready to use.
When cakes are cooled, spread about 2 cups frosting on one cake layer. Top with second cake layer and spread top and sides of cake with remaining frosting.
Cover and refrigerate until ready to serve, up to 3 days.