kempbeth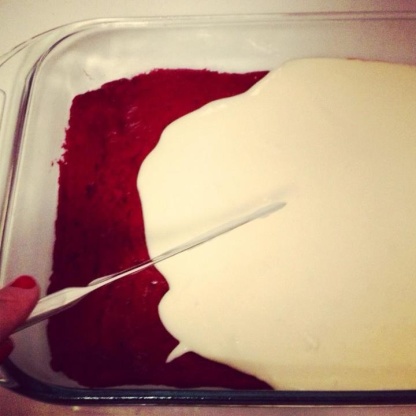 A quicker version of an old favorite. These bars are great for a snack as well as for a family gathering,or a potluck supper. You can divide the recipe between two foil pans, serve one and freeze the other. Just be sure to cool completely before wrapping in foil to pop in the freezer.
Preheat oven to 350 degrees. Spray 13x9 pan with cooking spray.
Mix cake mix,1 egg, butter and water in large bowl. This makes a VERY stiff dough. Transfer to prepared pan and pat into an even layer. I strongly recommend using gloves for this step, since the red food coloring in the cake mix will stain.
Cream together softened cream cheese and sugar until smooth. Add 2 eggs,vanilla and mix until combined. Spread on top of red velvet dough. Bake 40 to 45 minutes. Cool completely before slicing.