Red Tulip Masterfully Crafted by -- Tasty --
COOKGIRl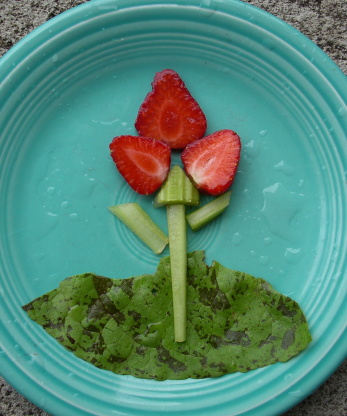 A --Tasty-- invention! Read important note below in the directions.

How cute! Good way to get the younguns to eat their veggies. Little strips of mango would make a pretty orange tulip as well!
*Note: if you have concerns about your child eating celery, switch the celery to cucumber strips.
Cut the strawberry lengthwise into 3 slices. One slice should be larger and the other slices should be the same size. (See photo above.).
Be sure the strawberry slices are flat on both sides so they lie flat on the plate.
Arrange the lettuce leaf on a plate. (This is the grass.).
Place the strawberry pieces on the plate in a tulip shape. The largest slice is the center petal. The two smaller pieces are the side petals.
Add the celery stems and stalk pieces.