Sageca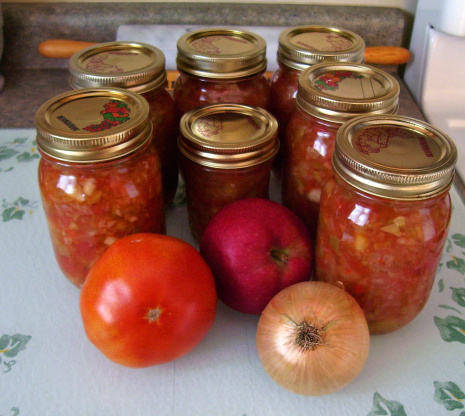 I found this great recipe on a Quebec recipe site. When you have many red tomatoes and want to make something special this is it! You can enjoy this condiment with hamburgers, hot dogs, any meats etc.
Blanch and peel tomatoes.
Cut them in large chunks.
Peel onions and apples.
In processor pulse onions, celery, apples and peppers; do not pulverize them--leave them in approx 1/2-inch cubes.
In large saucepan, stir everything together except the sugars.
Cook medium low heat for 1 hour stirring now and then.
Add sugars and continue cooking another 2 hours stirring now and then.
Do not cover while cooking your ketchup!
Pour into sterilized jars; wipe rim.
Cover to seal.