Bayhill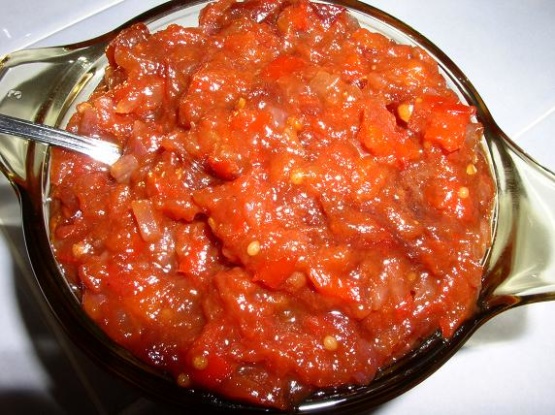 This sweet-tart chutney combines summer tomatoes with autumn-flavored cranberries, making it an awesome condiment for late-summer and fall barbecues. Spoon it over burgers and/or grilled chicken. When the weather gets cooler, toss a little chutney with roasted vegetables, such as carrots, onions, or sweet potatoes. Mix it with mayonnaise to make a dip for raw or cooked vegetables. This is also good over omelets or scrambled eggs! Adapted from Cooking Light.

I was a chutney virgin before making this. My English in-laws swore it was the best way to use up the end-of-summer tomatoes. So, I found this recipe and boy am I glad! I have already made a second batch. Everyone who has tasted it has raved about it. Thank you so much for sharing this! (P.S. I did it with the balsamic vinegar.)
Combine all ingredients in a large saucepan; bring to a boil. Reduce heat, and simmer, uncovered, 45 minutes or until thick, stirring frequently. Cool and pour into airtight containers.
Note: Refrigerate Red Tomato Chutney in airtight containers up to two months.
This could also be canned. Fill jars, seal, and process in hot water bath for 10 minutes.