Red Thai Chicken Curry With Pumpkin and Beans
Oliver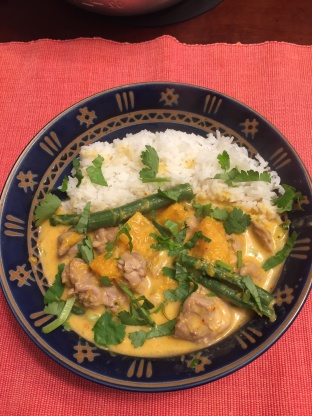 I am very pleased with this recipe and is one of my favourite dishes, hence the publication! It is spicy and tasty, Perfect for a cool winter evening or a hot summer night! Serve on hot steamed Jasmin rice and garnish with lots of coriander leaves. Enjoy!
Remove all excess fat from chicken thighs.
Dice chicken into 2-3 cm pieces.
Peel pumpkin, dice into 2X3 cm pieces.
Wash beans, cut off tail ends.
Cut beans into 4-5cm pieces (typically just halve them).
Heat oil in wok then add the curry paste and shallots, cook, stirring for about 2 minutes or until fragrant.
Add chicken, stir in fish sauce, stir-fry until just starts to be tender. You may add a little water, but you'll find that the chicken pieces release enough water to cook them.
Chicken should be nearly cooked when you add the pumpkin pieces and 100 ml water. Simmer for 3-5 minutes covered, then add green beans. Simmer for a further five minutes. Make sure neither the pumpkin, nor the beans become too soft. The beans should stay slightly crunchy.
Stir in and coconut milk/cream. Raise heat until just to boil. Simmer uncovered until the mixture is heated through.
Shred some coriander leaves -- place some on the surface of the red curry, save the rest for garnish on serving.