Red Snapper With Tomato-Saffron Vinaigrette
JustJanS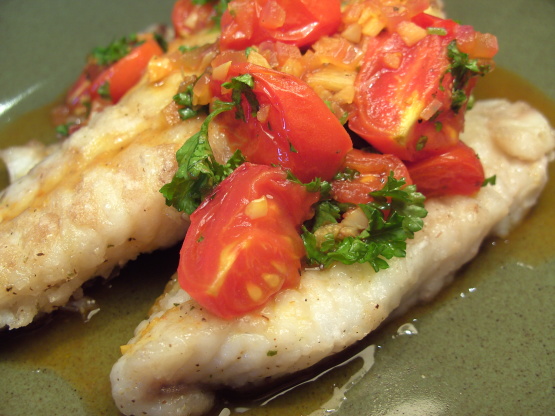 This one goes into my cookbook of repeatable fish recipes-it's amazing! I had a couple of small issues with the actual recipe-the ingredients say chopped spinach and the method calls for parsley (I used parsley) and although 4 cloves of garlic are listed in the ingredients, only 1 gets used in the method. I figured none would get much cooking, so minced them all and threw them in at the same time! This recipe is super simple and although the sauce is quite subtle, the whole thing is stunning. I was quite proud to use fish we caught ourselves yesterday, tomatoes and parsley from our garden and my own homemade chicken stock.
Broil the snapper if you wish. I prefer to pan broil them in a heavy non-stick pan.
First, rub salt and freshly ground pepper into the surface of the fish.
Add a film of oil to the pan and set over medium high heat.
Cook the fillets until done, about 3-5 minutes on each side, according to the thickness of the fish.
When done, remove to serving a plate and keep warm.
Heat the oil in a small skillet.
Add the saffron and cook over low heat for 5 minutes.
Add the shallot and minced garlic and cook, stirring occasionally, until fragrant, about 2 minutes.
Add the tomatoes and cook until slightly softened, about 3 minutes.
Add the chicken broth and cook just until the tomatoes begin to break down, about 3 minutes longer.
Remove from the heat.
Add the vinegar and chopped parsley and season with pepper.
Spoon the tomato vinaigrette sauce on the fish and serve.