Red Snapper With Basil Vinaigrette
IngridH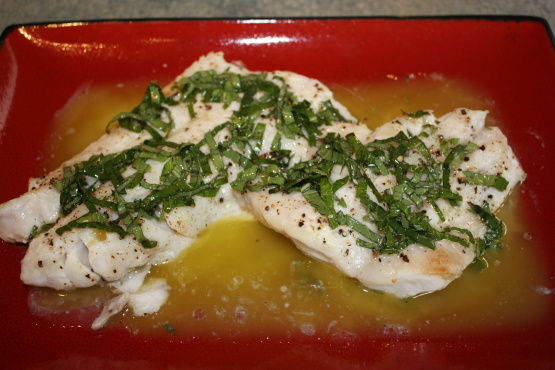 The olive oil glazed potatoes (Olive Oil Glazed Potatoes) make a perfect accompaniment to this dish. The time for this recipe will read 30 mins total, it's not because you'll make the vinaigrette while the fish is cooking. It comes from a restaurant in the L.A. area (can't remember the nane of it).

Yum! This is easy, yummy, light, and satisfying. What more can you really ask for? The fish was perfectly cooked, just starting to flake, and adding the vinaigrette to the cooked fish just made my whole kitchen smell of lemon and basil. This is one of those easy recipes you want to have in your back pocket for unexpected company- comes together in a flash, yet looks like far more work than it was. I can't wait for summer weather to try this with grilled fish and garden fresh basil, I think it will be even better!
Preheat broiler and oil a large shallow baking pan (1 inch deep).
Season fish all over with 1/2 teaspoon salt and 1/4 teaspoon pepper then put skin sides down in baking pan.
Drizzle fillets with 1/2 tablespoon lemon juice and 1 tablespoon oil (total).
Broil fish 6 inches from heat until just cooked through, 6 to 8 minutes.
Transfer to a platter.
While fish broils, whisk together remaining 1/2 teaspoon salt, 1/4 teaspoon pepper, and 2 1/2 tablespoons lemon juice in a small bowl, then add remaining 5 tablespoons oil in a slow stream, whisking until emulsified. Stir in basil and spoon vinaigrette over cooked fish.