Derf2440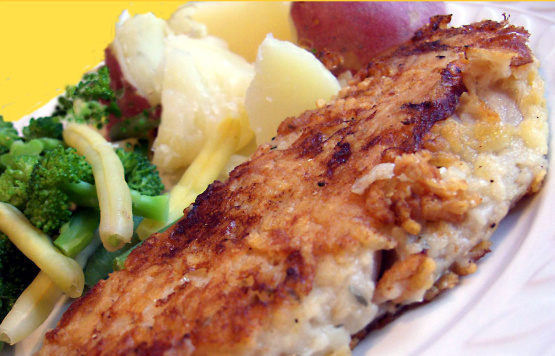 I think this came from Cooking Light around five years ago. It is really good, even for those like me, who aren't that crazy about fish.

"This is the best meal we've had in a long time" said my husband of this dish. "Put that at the front of the recipe box!" I did make some changes. I added lemon juice to the marinade and replaced the flour with seasoned bread crumbs. While the fish was cooking, I splashed it with more wine and lemon juice. I think that was the clincher; it made a nice tangy reduction. I'll definitely be making this one again! Thanks!
Combine the first 4 ingredients in a large zip-lock bag; add fish.
Marinate in the fridge for about 30 minutes, turning occasionally.
Remove fish from bag and discard the marinade.
Combine the flour, Parmesan, salt & pepper in another zip-lock bag.
Add the fish; seal and shake to coat the fish with the flour mixture.
Coat a large skillet with cooking spray and add the olive oil.
Heat over medium until hot.
Add the fish and cook for about 7 minutes on each side or until it flakes easily.