Derf2440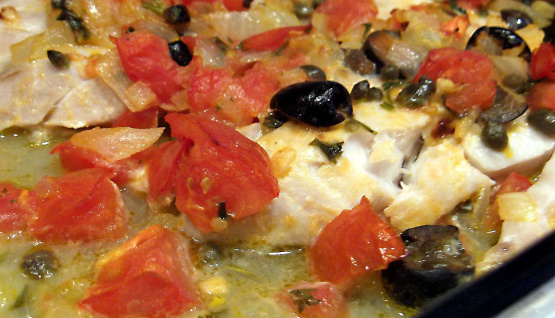 A tangy, easy recipe for almost any firm-fleshed fish fillets: red snapper, sea bass, grouper. Adaptable for sole, flounder, tilapia, and other thin fillets by adjusting cooking time. Serve with white rice or couscous, and a salad or steamed broccoli. From Ro on allrecipes.com.

"Damn yummy"! That's what the husband said and I have to agree. The family sucked it down and was scraping the platter for the extra sauce. I served it on a bed of linguine with cauliflower and a green salad. Followed the recipe exactly except due to the abundance of tomatos in my garden use fresh instead of canned.
Preheat oven to 400 degrees F (200 degrees C).
In a medium skillet, heat olive oil and saute onion until tender, about 5 minutes.
Add garlic, and saute for 1 minute.
Stir in tomatoes, capers, black olives, red pepper flakes, and parsley.
Bring to a boil, and simmer for 10 minutes.
Spread 1/2 cup of the sauce in a 11x7 inch baking dish, and arrange the snapper fillets in a single layer in the dish.
Drizzle lemon juice over the fillets, and then pour the remaining sauce over all.
Bake for 15 minutes for 1/2 inch thick fillets, or 30 minutes for 1 inch thick fillets.
Baste once with the sauce while baking.
Snapper is done when it flakes easily with a fork.