Red Skin Dill Potato Salad
Tisme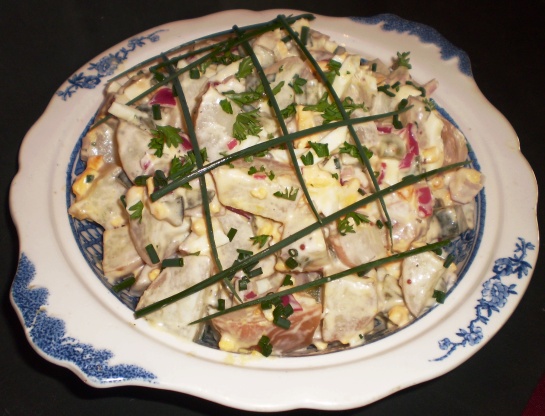 There are no words!! My hubby and I eat this warm it is so good - we just can't wait for the potatoes to cool before adding the dressing to them! This was originally a Bon Appetit/Gourmet recipe that has been tweaked to our family's liking! Cooking time includes time for the potatoes to cool.

We loved this salad. I have never made a potato salad with pickle juice and chopped up dills. DH kept eating and eating and eating, that to me is the biggest compliment. Thank you for sharing, its a keeper for sure.
Cook potatoes in boiling water for approximately 10 minutes.
Drain; transfer to a large bowl.
Drizzle pickle juices over hot potatoes and toss gently.
Cool to room temperature.
Whisk together the mayonnaise, buttermilk, dill, mustard, sugar and pepper in a medium bowl.
Pour over potatoes.
Add eggs, onions and pickles to potato salad and toss to blend.
Refrigerate until serving time.