Bergy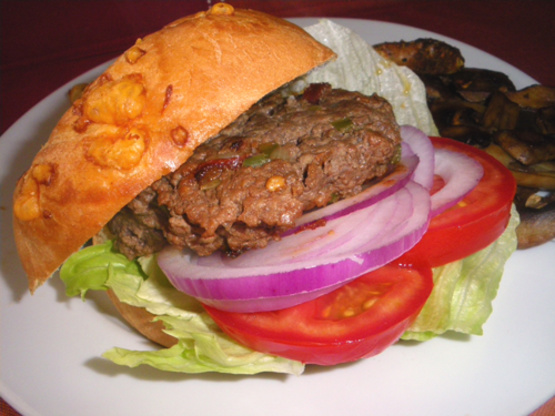 Yummy spicy grilled burger recipe from Better Homes and Gardens.

Top Review by Bergy
I love Burgers and I sure enjoyed this one. I thought it would be extra hot but it was just right - We love spicy. I used a Jalapeno in place of the Serrano in the meat mixture and use a spicy garlic smoke sauce. Love Chipotle in adobo sauce Yes please again & again.
118.29

ml chopped green onions or 118.29 ml finely chopped white onion

29.58

ml fine dry breadcrumbs

2

red serrano peppers, seeded and finely chopped

3

canned chipotle chiles in adobo, chopped

2.46

ml salt

453.59

g lean ground beef

4

wheat hamburger buns, split (1-inch-thick) or 8 slice bread (1-inch-thick)
roasted red pepper catsup, roasted garlic catsup (optional) or other purchased flavored catsup (optional)

4

slice tomatoes (optional)
sliced red onion (optional)
red serrano pepper (optional)
Combine green onion or white onion, bread crumbs, serrano peppers, chipotle peppers, and salt in a large mixing bowl. Add beef; mix well. Shape meat mixture into four 3/4-inch-thick patties.
For a charcoal grill, place patties on the grill rack directly over medium coals. Grill, uncovered, for 14 to 18 minutes or until an instant-read thermometer inserted into the side of a patty registers 160°F, turning once.
For a gas grill, preheat grill. Reduce heat to medium. Place patties on the grill rack; cover and grill as above.
Grill or toast buns or bread. Serve burgers on grilled or toasted buns or bread topped, if desired, with flavored catsup, tomato slices, red onion slices, and serrano peppers.