Mmmama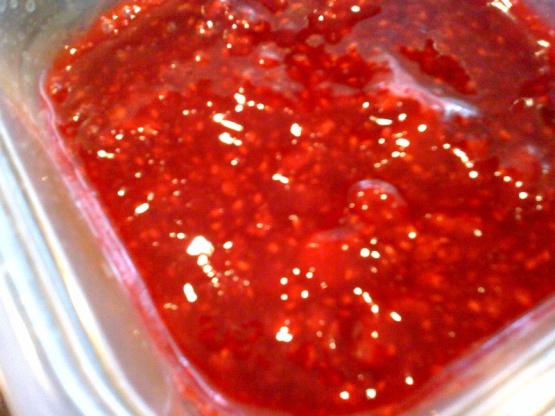 This simple, three-ingredient sauce is very versatile. Right now I am enjoying it with freshly baked angel food cake, but I would love to try it with grilled peaches, and also with something chocolatey! I also think it would be nice with chicken or maybe a wheel of warm brie. It is a chunky sauce, with the texture determined by how much you crush the berries when you mix it. I more or less mashed mine, but I think leaving at least some of the berries whole would make a more elegant sauce. Add in a bit of your favorite liqueor or extract to vary the possibilities even more (I tried it with some Triple Sec - very good!). This recipe originates from The Complete Cooking Light Cookbook, and it makes approximately 1 1/2 cups.

I've been making a number of fruit sauces recently, & without a doubt I'll be making this particular one again & again ~ IT'S ABSOLUTELY WONDERFUL! Great on ice cream or with a vanilla yogurt or cottage cheese, & as a hot sauce on chicken breast, very very nice! Thanks for sharing the recipe! [Made & reviewed in Healthy Choices ABC tag]
Melt jam in a small saucepan over low heat (I did this in the microwave instead- put the jam in a small glass bowl and heat using medium power for 1-2 minutes).
Stir in lemon juice.
Remove from heat and place the jam mixture in a small glass bowl.
Stir in raspberries.
Serve warm or at room temperature.