Red Potatoes With Butter and Chives
JackieOhNo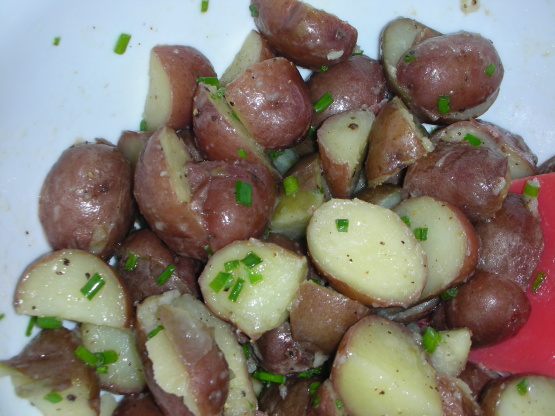 A homemade side that I have been making for years. This will go with almost any main dish.

Simple, easy and delicious - what more could you ask for? I steamed 24 oz. of miniature red potatoes in the microwave, then tossed in a bowl with 3 T. butter and plenty of chives. Made a wonderful side dish that was very flavorful. Made in memory of Papa D.
1 -2

lb red potatoes, rinsed, skin on

3 -4

tablespoons butter, cubed
fresh chives, minced
salt and pepper
Bring a 2 quart sauce pot half full of water to a boil.
While water is coming to a boil dice potatoes to 1/4 inch cubes.
Add cubed potatoes to boiling water and cook on a slow boil until just fork tender (still firm).
Drain in a colander and return potatoes to pot.
Add butter cubes and gently stir until butter has melted.
Stir in minced chives and season to taste with salt and pepper.