Red Potatoes Roasted With Lemon Caper Sauce
2Bleu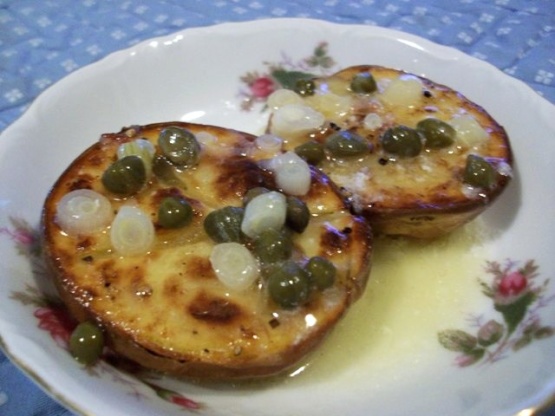 Roasted baby potatoes topped with a lemony capers sauce topped with parmesan cheese.

YUMMY ! Had some baby reds and good shallots, looking for a new way to serve. Couldn't put potatoes directly on oven rack, too small ! It worked to put them on cookie cooling rack. Cut the butter to 1/4 cup and diced 2 shallots. Taters soft at 30 min, combined everything and put on warming spot on range top while I got everything else together. Served with sauteed scallops and shrimp, and chard from the garden. Lovely, easy prep. Thanks for posting, Rita !
Roast potatoes right on the rack in a preheated 400 degrees oven till tender about 45 minutes.
Slice in half.
Meanwhile saute onion in butter until tender. Reduce heat, stir in lemon juice, capers, parsley, salt and pepper. Cook until mixture is heated.
Pour over potatoes. Sprinkle with Parmesan cheese. Garnish with lemon slices.