Bergy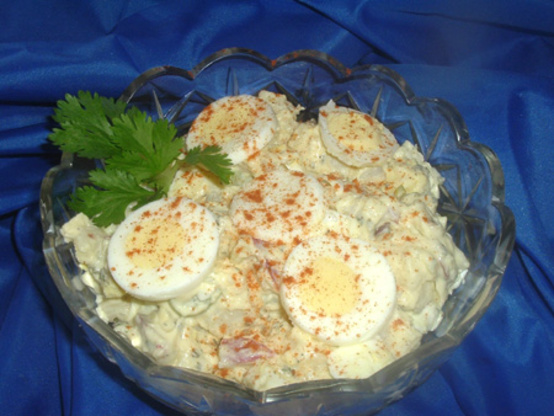 A nice summer potato salad with a little kick.

Did someone say hot, hot, hot? Nah, just the right amount of heat if you take out the seeds and white pith from the jalapeno. I only used 1/2 pepper as I was afraid to add more, and I went easy on the cayenne. We had it with our Fried Chicken, and the whole family gave it a flying 5 stars!
2

lbs red potatoes, diced large 1 inch
1⁄4 cup white onion, chopped
1⁄4 cup chives, snipped
1⁄4 cup celery, chopped

1

jalapeno pepper, seeded and chopped fine

1

tablespoon Dijon mustard
3⁄4 cup mayonnaise, no fat type

1

egg, hard boiled, sliced
1⁄4 teaspoon cayenne pepper
Prepare potatoes with skin on, dice 1 inch; place in pot of salted water and boil until tender, about 15 minutes; drain, cool and set aside.
In a large bowl, place onions, chives, celery and jalapeño pepper, salt to taste and mix.
Place cooled potatoes in a large bowl, add onion mix; add mustard and no fat mayonnaise; combine.
Place in serving bowl, garnish with egg slices and sprinkle with cayenne pepper.
Refrigerate until serving.