Parsley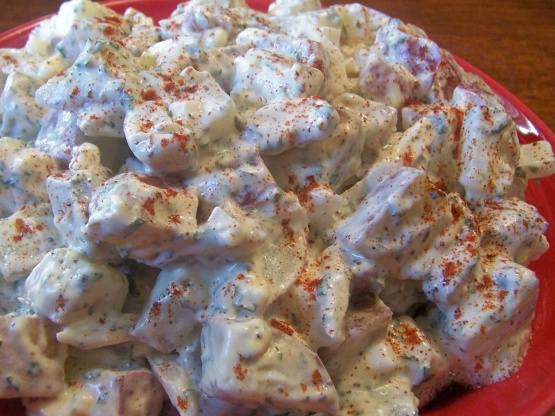 I love potato salads, and believe me I've tried a lot of different recipes, but this one is my favorite, its simple, concentrating on the most important ingredient....POTATO!!

Top Review by alma01
This potato salad is, without a doubt, the best potato salad I have ever eaten. So simple to make and so delicious!!! It is so moist and tasty. I added a couple more boiled eggs. However, that is just my preference. I will stick to this recipe forever!!!
Boil potatoes in water until soft.
While cooking, beat all remaining ingredients, except paprika; set aside.
Drain potatoes.
Place in a large bowl, and allow to cool slightly.
Slowly pour the sauce over potatoes and egg.
Carefully stir to coat.
Sprinkle with paprika, cover and refrigerate for at least 4hrs, or overnight.
YUM!